Anthropological Index Online (AIO)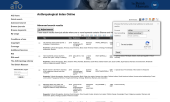 The Royal Anthropological Institute (RAI) runs a website that aids anthropologists' research. It has a team of academics who index articles from various journals in the field, making the results available to researchers online. The AIO site is effectively a search engine that points researchers in the direction of articles that may be of interest to them.
The online index suffered serious problems in 2012 and was unavailable for several months, at a time when the only person with knowledge of the system was also unavailable. In 2014 the RAI contacted me to help resurrect the system. It quickly became apparent that the system's problems were extensive, and that actually a ground-up rewrite using modern tools and technologies was the best solution.
The database of 500,000 articles and 3.25 million related keywords had to be fully reconstructed from the original Refer-format text files dating back several decades. The AIO was rewritten using modern PHP with a MySQL database. The application is modular and object-oriented, with an extensible plugin architecture based on équIT's in-house rapid development framework. The application provides end-user search facilities, including the ability to download or email search results in a variety of academic formats (e.g. for import into EndNote) as well as human-readable formats (e.g. HTML, PDF). It also provides the RAI's team of academics with a secure back-office interface enabling them to upload the details of new articles to the database as indexing progresses.
As well as development, the RAI needed ongoing maintenance of their new solution to avoid repeating the issues of the past. So a significant part of the solution for the new AIO is backup and maintenance, along with full system documentation, which ensures that the system is not dependent upon the continued availability of équIT. A simple disaster recovery plan was put in place to ensure that the RAI always has the latest system code and data, and the documentation it needs, to get AIO back up-and-running within hours, should the need arise. That said, the system has now been running successfully since the start of 2015 with no problems, and new features continue to be added.